Maui Photographer Joe Cogliandro: Seeking Truth through the lense.
ALOHA!
I am a Maui Photographer with a passion for Weddings, Portraits and Fine Art Photography. I am based out of Maui but also serve Oahu, Kauai, Lanai, and Hawaii.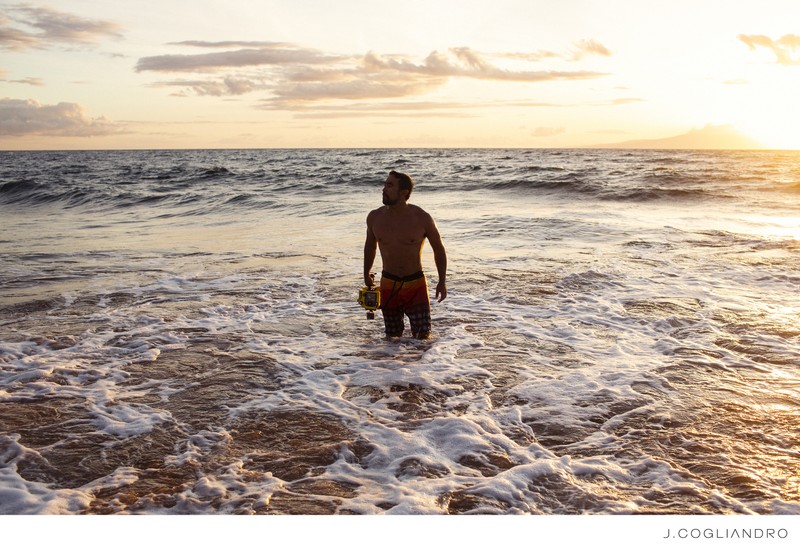 image by the talented @mwangphotography at BIG BEACH MAUI
ETHOS
Can be defined as the characteristic spirit of a culture, era, or community as manifested in its beliefs and aspirations. Most people understand this when the word is used, but I find it helpful to use this definition when discussing the "why" of what I do.
I am at heart a seeker of Truth in all things. I desire to be true to myself, my family, my clients, and true to God. This is important as this truth about me plays heavily into the imagery I desire to create for the couples, families, individuals and companies that hire me.
My greatest desire in creating images for you is that they truely represent this time in your life. Be it a family vacation with the kids, a sexy getaway with your husband/significant other, an adventure with friends or just you wanting to explore and create images that are meaningful to you (the ideas and concepts behind the work I do are limitless)
I can honestly say I love my job. Years ago a friend turned to me while we were on the beach and asked: "Joe what would you be doing if you did not have to work?" I thought about it for a moment and answered "the same thing I am doing." I am a creator. Even when I am not working I have some form of camera on me just in case I am moved to capture the feeling of what I see in that moment.
AESTHITIC
I have a fine art mentality coupled with a journalists ideology. I am a photographer who loves the process and I bring a landscape photographers mindset to my portrait and wedding work but I also know the value of protecting the environment I find myself in. What does this mean for you? I won't mess with your event, I won't yell, I won't raise my voice, I won't get angry. I am super chill and want people to just be happy with both the final product and the experience they have with me.
PUBLICATIONS
Thanks to amazing clients and the amazing teams that I have been fortunate to work with... our beautiful weddings have been published in numerous magazines and editorials in the world of weddings & Portraits. PEOPLE, GRACE ORMONDE, INSIDE WEDDINGS, DESTINATION WEDDINGS & HONEYMOONS, WEDDINGS in HOUSTON, THE KNOT, BRIDES, BRIDES HOUSTON, RANGEFINDER, TOWN & COUNTRY WEDDINGS, STYLE ME PRETTY, ONCE WED, JUNEBUG WEDDINGS, MAHARANI WEDDINGS to name a few.
TRAVEL
I have been fortunate enough to travel the world shooting portraits and weddings for a client base that is literally from all over the world. I have traveled all throughout the United States (Texas, Hawaii, New York, California, Florida, Louisiana, Tennessee, Wyoming, Colorado, South Carolina, Missouri, Kansas, Illinois, Arizona, Ohio, Louisiana, Georgia, Nevada, New Mexico. Caribbean (Puerto Rico, Bahamas, Bermuda , Jamaica, Turks and Caicos). Central America (Mexico, Belize, Costa Rica. Europe (England, Italy, France, Germany, Spain, Greece). South America (Chile & Argentina). Middle East and Africa (Israel, Jordan, Egypt) and all the way to India (Kerala). I can honestly say that I have been blessed by the many wonderful and diverse people who have trusted me with the most precious and beautiful times in their lives.
RECOGNITION
Known throughout the Wedding and Portrait community, J. Cogliandro Photography has been one the most highly awarded studios in the world for the last 10 years. I am consistently challenging myself to create more beautiful imagery with each shoot. To date I have been awarded over 180 awards for my wedding, portrait and landscape photography through numerous organizations worldwide. WPPI has given me the title of Triple Master of Photography having won 2 Grand Prizes and numerous first place awards for my Wedding, Boudoir and Landscape Photography. (really this just means I take pride in my work. I love the challenge of getting better at something and now this will be reflective in the work I create for you)